BM BM91925H CATALYTIC CONVERTER Front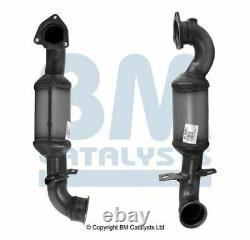 BM BM91925H CATALYTIC CONVERTER Front. Part No : 323490 28201 PT6119T. Choice of Fitting Kits Required : FK91925A or FK91925B. CATALYTIC CONVERTORS - YOU ARE NOT ALLOWED NON APPROVED CATS. APPROVED CAT CONVERTORS END IN THE LETTER "H", eg BM91563H. APPROVED CATS ARE NOT LEGAL IN EU AND THEREFORE WE CANNOT. In 1993, it became a legal requirement in the UK for vehicles to be fitted with Catalytic Converters as part of the Euro Emissions standards to improve air quality. Today, we manufacture Europe's largest range of Catalytic Converters with our range covering. Alfa Romeo, Audi, Bedford, Bentley, BMW, Chevrolet, Chrysler, Citroen, Dacia, Daewoo, Daihatsu, Dodge, Ferrari, Fiat, Ford, Galloper, Honda, Hyundai, Innocenti, Isuzu, Iveco, Jaguar, Kia, Lada, Lancia, Land Rover, LDV, Lexus, Lotus, Mazda, Mercedes, MG, Mini, Mitsubishi, Morgan, Nissan, Peugeot, Porsche, Proton, Renault, Rover, Saab, Ssangyong, Seat, Skoda, Smart, Subaru, Suzuki, Toyota, TVR, Vauxhall/Opel, Volkswagen, Volvo.
Catalytic Converters fail for many reasons as mentioned above. In many cases, the failure has little to do with the Cat itself, but instead is the result of another fault within the vehicle.
It is important to rectify any problems before a new Cat is fitted. When a vehicle fails an MOT emissions test, the blame is usually placed on the Cat. However, the Cat can only convert what gases pass through it; if the vehicle is running poorly, the Cat will become contaminated with unburned fuels and become unable to convert the gasses efficiently. If the Cat is replaced without fixing the vehicle fault, it is highly likely it will pass the MOT test as the new Cat is working at its full capacity and will mask any fault. A tell-tale sign of a vehicle that. Been repaired is that they will return a year after failing the original MOT having failed the test again. The Engine Management Light will be triggered on the dashboard if the vehicle's emissions values fall outside the set parameters. The most common fault code relating to the Cat is the "Cat inefficient" code.
It is important to investigate the following faults before condemning the Cat. Air leak in the exhaust system. Diesel vehicles have become increasingly popular across the world as diesel engine technology continues to advance due to their superior fuel economy over petrol vehicles. The drawback with diesel vehicles however, is that they have high NOx and particulate emissions compared to their petrol counterparts. In response to this, existing Euro Emissions Standards were tightened and greater environmentally friendly initiatives were developed, such as the implementation of'Stop/Start' technology in many modern vehicles.
One of the most prominent developments however was the introduction of Diesel Particulate Filters (DPFs). What are they and how do they work? The Diesel Particulate Filter is part of the exhaust system which helps reduce the amount of harmful particulate matter (soot) expelled within exhaust gases. It captures and contains these particles and when soot levels inside the filter reach their allowed limit, the.
Process is initiated, burning off any trapped particles and converting them into carbon dioxide. Exhaust gases containing soot enter the DPF channels which are closed off at alternating ends.
The channel walls are porous, allowing exhaust gases to pass through, but retaining (trapping) the larger soot particles inside the DPF. Cleaner exhaust gases then exit the DPF as the trapped soot particles are reduced to smaller ash particles during Regeneration. The Regeneration process also helps to prevent blockages and is integral to the function of the DPF and therefore the vehicle.
We manufacture DPFs to cover a huge range of vehicles including. Alfa Romeo, Audi, BMW, Chrysler, Citroen, Dodge, Fiat, Ford, Honda, Hyundai, Jaguar, Kia, Lancia, Lexus, Mazda, Mercedes, Mini, Mitsubishi, Nissan, Peugeot, Porsche, Renault, Saab, Seat, Skoda, Suzuki, Toyota, Vauxhall/Opel, Volkswagen, Volvo. What are they made from?
DPFs look quite similar to Catalytic Converters. Cordierite is an ideal material for DPFs as it filters out a large percentage of particles and is very thermally stable and often used in aftermarket products. (SiC) DPFs are constructed from small sections cemented together. SiC has superior hardness, low thermal expansion and good thermal shock resistance.
It tends to be used in OE applications and is classed as a Premium product. Over 50% of our standard range of DPFs are available in the Premium range which is denoted by the "P" suffix.
As the DPF acts as a "soot trap", a process needs to take place to prevent it becoming blocked and affecting the running of the vehicle. This is the process of. There are 3 different types of Regeneration. Regeneration "burns off" (oxidises) the particulates that have accumulated in the DPF. Is a process of soot reduction via natural conversion. It occurs when ideal driving conditions apply 60mph for 15 minutes - e. The DPF becomes hot enough to burn off some of the trapped particulates naturally between 350-500°C.
The carbon soot particles are converted into carbon dioxide by a reaction with nitrogen oxide using the coating of the DPF, which works as a catalyst. Occurs when the optimum exhaust gas temperatures can no longer be maintained, meaning Passive Regeneration can no longer take place. Therefore, Active Regeneration is an ECU led process that increases the exhaust gas temperature to 500-800°C. When the carbon soot deposits in the filter reach a certain level, the engine management system initiates the Regeneration process which lasts around 10 minutes.
DPFs can hold several hundred miles worth of soot before this process is initiated. The ECU may also trigger vehicles into limp mode to help protect other components when it senses that the DPF is becoming blocked.
Involves very high temperatures and is carried out by garages with diagnostics equipment. The very high temperatures applied during Active and Forced Regeneration can lead to an accumulation of ash, otherwise known as'ageing'.
The build-up of ash is treated by physical intervention such as chemical cleaning, ultrasonic cleaning or replacement of the DPF. These days, most diesel vehicles employ one of more different built-in systems to treat exhaust emissions and reduce the levels of soot being emitted during use. Delayed fuel injection to increase the temperature of the exhaust system. One or more diesel oxidation Catalysts to work alongside the DPF.
An additive system which lowers the temperature at which soot combusts. Alternative technologies such as microwave or heater coils to raise the temperature within the DPF. Exhaust Gas Recirculation or Selective Catalyst Reduction technologies. In 2016, we launched our DPF Pressure Pipe range which currently covers in excess of over 600 vehicle fitments.
48% of our DPF range now have the associated Pressure Pipes available for order. We believe new pipes should be fitted with a replacement DPF on all occasions. We also recognise that in some cases, there is a need for DPF Pressure Pipes without requiring the DPF itself. Also included in our DPF range are parts that only have fixed Pressure Pipes, such as the BM11023. In this instance, no separate DPF Pressure Pipe is needed. Our Pressure Pipes can be identified by the "PP" prefix, followed by the 5-digit reference number of the DPF that the pipe corresponds to e. G 11005 for a BM11005H, and ending with a suffix of either "A" or "B", thus PP11005A. What is a DPF Pressure Pipe? A DPF Pressure Pipes is a metal tube which connects the DPF unit to the DPF pressure sensor. This allows the sensors to accurately measure the inlet and outlet pressures of the DPF. As the amount of particulate trapped by the DPF increases, the pressure at the inlet side of the DPF increased in comparison to the DPF outlet. This comparison is used by the sensor to calculate the amount of particulate trapped within the DPF. By measuring this pressure and the DPF temperature, the DPF software can determine if the DPF is becoming blocked and requires regeneration. There are two variants of a Pressure Pipe.
(welded into and supplied with the DPF unit) and. (screw in and supplied separately). The entire pressure pipes range at BM Catalysts is made from high-quality 304 grade stainless steel to ensure optimum durability. What happens if they break? Damaged or blocked Pressure Pipes can produce incorrect readings on the DPF pressure sensor which could therefore lead to problems if undetected and unresolved.
Pressure Pipes are very thin (usually around 8mm in diameter) tubes of metal that are exposed to the elements. Being fitted to the underside of a vehicle means they are susceptible to damage.
Due to their slim form, any impairment to the material of a Pressure Pipe can lead to further damage when the pipe is manhandled during removal. The Front Pipe is a length of pipe running between the manifold and the Catalytic Converter. Similarly, a Connecting Pipe is a length of pipe travelling between the Catalytic Converter and the back box (or an additional emissions control device).
Our Front and Connecting Pipes are made from quality materials with our range covering the following. Alfa Romeo, Audi, BMW, Chrysler, Citroen, Daewoo, Daihatsu, Fiat, Ford, Honda, Hyundai, Isuzu, Iveco, Jaguar, Kia, Lancia, Land Rover, LDV, Lotus, Mazda, Mercedes, MG, Mitsubishi, Nissan, Peugeot, Proton, Renault, Rover, Saab, Seat, Skoda, Ssangyong, Subaru, Suzuki, Toyota, Vauxhall/Opel, Volkswagen, Volvo.
We offer a wide range of Fitting Kits for our products, from Cats and DPFs to both Front and Connecting Pipes. Our kits include anything from gaskets and clamps, to washers and springs, nuts and bolts. For many parts, a choice of either Kit A, B or C may be available so you can chose the right kit for your needs. You will be advised on the part screen if a kit is available for a selected part.
Our Fitting Kits coverage boasts an impressive 79% coverage of our Cats, 92% of our DPFs and 54% of our Pipes, whilst also covering 92% of our Top 500 parts. Fitting Kits can be identified by the "FK" prefix followed by the 5-digit code of the part the kit corresponds with e.
G 11005 for BM11005H, ending with either "A", "B" or "C" depending on the chosen kit. This would create part number FK11005B, for example. The BM Catalysts Premium range of DPFs is made using silicon carbide as opposed to cordierite which is used in the standard range of DPFs. Also known as Carborundum, it is a material widely used in applications that require a high thermal or strength endurance.
It is mass produced as a powder that which can be bonded together using heat to form a ceramic. What are the properties of SiC DPFs and why are they a premium product? Does not melt at any known pressure. More resistant against monolith fractures. One of the strongest known materials - second to diamond. Why we use SiC in our Premium Range. It has a melting point of 2700°C so is extremely unlikely to melt during Regeneration. It has to be made from small segments fixed together with a special cement to enable it to cope with heat expansion. It also boasts a 99% filtration efficiency as is commonly used in O. A significant number of our standard DPFs are available in the Premium range which is denoted by the "P" suffix. The range covers a magnitude of vehicles including. Alfa Romeo, Chrysler, Citroen, Fiat, Ford, Lancia, Mazda, Mercedes, Mini, Mitsubishi, Nissan, Peugeot, Renault, Saab, Seat, Suzuki, Vauxhall, VW, Volvo.
Blue Angel is the World's oldest and most renowned eco-label. It was created by the German Federal Ministry for the Environment and has been running since 1978. Juried by and independent governing body made up of many highly respected associations and trade unions, the award is given to products with high environmental, serviceability, health, occupational protection and quality standards. How is Blue Angel Awarded?
To achieve Blue Angel status, the Catalytic Converter undergoes additional rigorous testing on top of the already achieved 103R approval. This additional testing is similar to that which is required for homologated catalysts, with the notable addition of a comparison of the performance of the part when new to its performance after it has been artificially aged. This is designed to simulate how the part will react when it is fitted to the vehicle. Additional testing is then undertaken each year for the lifespan of the part.
By undertaking different tests each year for the first four years and a complete test in the fifth year, Blue Angel certification ensures that the part continues to provide reduced vehicle emissions and sustained functionality in the long term. At the end of the five year period, the process starts again. This is the most thorough regime of testing for Catalytic Converters in the industry and only products that meet these high standards can be awarded the label. Complies the highest standards of testing in the industry. Ensures optimum emission reduction performance throughout life span.
BM Catalysts Blue Angel Range. We are immensely proud of our Blue Angel range of Catalytic Converters. We are delighted to be able to release more than 148 new Blue Angel part numbers for both petrol and diesel engines, covering over 1,100 vehicle applications. They can be easily identified by the "B" suffix and are available to view on online now.
Our Blue Angel range is made to order covers a variety of vehicle fitments including. Audi, BMW, Citroen, Fiat, Ford, Hyundai, Lancia, Mazda, Mercedes, Mini, Mitsubishi, Nissan, Opel, Peugeot, Porsche, Renault, Seat, Skoda, Volvo, VW. We pride ourselves on a quality service and we are happy to address any concerns.
The item "BM BM91925H CATALYTIC CONVERTER Front" is in sale since Sunday, November 4, 2018. This item is in the category "Vehicle Parts & Accessories\Car Parts\Exhausts & Exhaust Parts\Catalytic Converters & Parts".
The seller is "mjd128" and is located in Leatherhead. This item can be shipped worldwide.
Item condition: New
Classic Car Part: No
Country/Region of Manufacture: UK
Brand: BM CATALYSTS
Manufacturer Part Number: BM91925H
Inspection Tag: E9-103R
Product Description: APPROVED PETROL CAT
Product Class Description: Catalytic Convertors
EAN: 5052746159141
Warranty Period: 2 years warranty
Modified Item: No
Fitting Position: Front
Unit Quantity: ONE
Alternative Part No: 323490 28201 PT6119T
Euro Level: 5
Reference OE/OEM Number: 1706AC 1706W3 1706W6 1706Y4 1706Z2 1706Z3
Associated Part: FK91925