Turbocharger Volvo S40 II 1,6 D PSA Motor DV6 81 Kw 110 HP Incl. Accessories New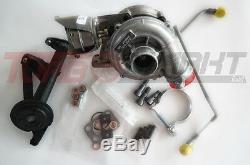 Turbocharger Volvo S40 II 1,6 D PSA Motor DV6 81 Kw 110 HP Incl. The description of this item has been automatically translated. As a complete set with accessories!!!! Including seals, oil supply line.
Banjo bolts for fastening and new oil suction basket. IT IS ESSENTIAL TO FOLLOW TECHNICAL INFORMATION!! 1.6 HDI 109 HP. Berlingo - C3 - C2 - C5 - C4 - Xsara Picasso. 1.6 TDCi 109 HP. Focus II - Focus C-Max.
206 - 207 CC - 307 - 407 - 1007 - 3008 - 5008. 1.6 D 109/110 PS. S40 II - V50 - S80 - C30 - V70 III. 1.6 Cooper D 109 HP.
Mini Clubman R55 - Mini R56. 1.6 DI 109 HP. 80 kW - 109 hp. 0375J3, 0375J6, 375J6, 375J8, 375N1, 375N9. 9654128780, 9656125880, 9660641380, 1319614, 1340133.
1479055, 3M5Q6K682AE, Y60113700G, 11657804903, 7804903. Vehicle was installed as an original new turbocharger from. The turbocharger is suitable for the following vehicles. 9HY (DV6TED4) / 9HZ (DV6TED4).
G8DA / G8DB / G8DE / G8DD / G8DF. FOCUS II station wagon (DA_). 206 Hatchback (2A / C).
206 SW (2E / K). 0375J3, 0375J6, 375J6, 375J8, 375N1, 375N9, 9654128780.
Please observe our installation instructions when installing the turbocharger. You don't know which turbocharger you have installed in the vehicle?? To identify the turbocharger, we need the data from your vehicle (KBA or Key number) or the original part number.
If you have already removed your turbocharger, you can also send us the data from the turbocharger nameplate. These are usually structured as follows.
0375J3, 0375J6, 375J6, 375J8, 375N1, 375N9, 9654128780, 9656125880, 9660641380, 1319614, 1340133, 1479055, 3M5Q6K682AE, Y60113700G, 11657804903, 7804903. Technical information about the turbocharger in the 1.6 liter PSA engine!!!!
Focus II, C-Max, Fiesta V. Mazda 3 (BK12 / 14). C3, C4, C5, Xsara, Berlingo. The 1.6l DV6 engines are often due to lack. Oil supply in the area of the radial bearing to damage the turbocharger.
Contamination in the lubricating oil system is responsible for this; due to soot deposits, as well as increased oil carbon formation. It is not enough to simply mount a new turbocharger.
Without analyzing the cause in advance and eliminating the fault, because this is likely to cause a second failure! Recommendations regarding Diagnosis and remedies.
Before a new turbocharger is mounted on the engine and put into operation, the following work must be carried out. Oil pressure test on the inlet pipe of the turbocharger. Reach 2 bar at 2000 rpm. Replace the oil supply line and banjo bolt. Visual inspection of the intake and charge air system for contamination. If necessary, clean or replace. Dismantle the oil pan and valve cover and check for contamination from oil deposits (sludge / lumps) and clean. The engine must be replaced before installing the turbocharger! In the event of contamination without finding tar-like sludge residues, the following additional tests and repairs must be carried out. Disassemble and clean the pump suction pipe with oil strainer, or replace. Clean the inside of the engine as far as accessible. If a dipstick made of black plastic with a yellow handle is present, it must be replaced with the current design made of white composite with an orange handle.
The amount of oil is no more , as previously in the documents. With the new dipstick, an oil quantity of 3.95l reached. Clean / replace oil cooler and oil filter unit.
Disassemble, disassemble and clean the vacuum pump. When installing the new turbocharger, please replace the oil supply line and its connecting elements. After the aforementioned work, the flow rate of oil must be checked with the turbocharger installed. This test must be carried out at least 3 times!
Fasten the oil supply line and instead of the return line, attach a hose to the return flange of the turbocharger, which is led into a measuring container. Fill the engine with engine oil. The minimum oil level must not be exceeded during the measurement process.
Operate the engine at idle for 60 seconds. The measured oil volume must be greater than 0.3 liters. Repeat the test 2 more times! Then disassemble the measuring hose and through the return line. Now carry out an extended test drive of 30-40 km.
A renewal of the engine oil including the filter is recommended after this test drive. Installation trap banjo bolt with strainer in the oil supply line. We have indicated in advance and in our installation instructions about the need to replace the oil supply line. In some applications - such as Citroen C4 1.6HDI, or Ford Focus 1.6 TDCI - there is another special case in the field of oil supply, which can become a special case if ignored. The oil supply line itself is constructed like many others; only here you have a fine hair strainer installed in one of the line-fastening banjo bolts. This screen construction is obviously intended to prevent dirt from entering the turbocharger via the oil line. However, if this strainer gets clogged with dirt, the goal is missed, because now the turbo dies instead of pollution due to a lack of oil. It is therefore advisable to replace this banjo bolt when installing a new turbocharger as well as the line itself.
Also got to when replacing the turbocharger MANDATORY the oil pan be dismantled and cleaned. There you will find the main oil intake pipe (suction basket) of the engine. In this intake pipe you will also find a sieve which is clogged with dirt particles due to high engine wear.
This intake pipe (suction basket). MUST be replaced to ensure that the new turbocharger or the engine is supplied with sufficient oil. We hope that with this detailed information we can help you to carry out the work without errors and to avoid further problems. Caution with repaired VTG turbochargers.
Product analysis currently conducted by Honeywell Turbo Technologies - comparing original Garrett quality turbochargers with remanufactured VNT turbochargers and turbocharger copies - shows that their market leading Garrett turbochargers are considered in terms of reliability, performance, fuel economy and durability deliver a much better value over the entire lifespan than cheap non-original alternatives. Some replica turbos fail within hours of installation - and the effects can be catastrophic. Bearing problems are most common, but it is also known that the bolts that connect the turbine housing to the center housing become'slack', which can result in gas leakage, mechanical damage, or oil leakage, which in turn can cause the catalyst or DPM System can contaminate. Trying to overhaul a turbo using spare parts is difficult and can lead to potentially serious problems such as. Conflict with the engine management system.
Low throughput / pressure, resulting in poor responsiveness, poor overall performance and increased emissions. Supersaturated diesel / air mixture, which can lead to excessively high temperatures, which can damage both the turbo and the engine.
Too high / low pressure, which can lead to excessive speed of the turbo, breakage of the wheel and damage to the turbo and engine. Excessive turbo charge, causing physical damage to the engine. If a cheap turbocharger that does not conform to the standard is installed, the vehicle's operating license expires! In the event of damage, this can have devastating consequences for you and your customers.
A replica turbocharger as well as a repaired and not type-tested calibrated VTG / VNT turbocharger harbors this danger. Everyone has to know that manufacturers such as Honeywell (GARRETT) and BorgWarner (KKK) also clearly state that such loaders cannot be repaired and therefore do not offer any spare parts for these types. Calibration values are also not available. List your articles quickly and easily and manage your active offers. The item "Turbocharger Volvo S40 II 1,6 D PSA Motor DV6 81 Kw 110 HP Incl.
Accessories New" is in sale since Wednesday, February 7, 2018. This item is in the category "Vehicle Parts & Accessories\Car Parts\Turbos & Superchargers\Superchargers & Parts".
The seller is "turbomarkt" and is located in Mainz. This item can be shipped to North, South, or Latin America, all countries in Europe, all countries in continental Asia, Australia.
Reference Number OE2: 1479055
Reference Number OE3: 375N9
Part Manufacturer: Garrett
Reference Number OE7: 7804903
Reference Number OE4: 1340133, 0375J6
Reference OE/OEM Number: 7534200005
Reference Number OE5: 9656125880
Mounting Position: Ahead
Manufacturer Part Number: 7534205006S
Reference Number OE1: 9654128780
Reference Number OE: 0375J3
Other Article Number: new ORIGINAL
Reference Number OE9: 11657804903
Article Number: 7534205006S
Reference Number OE6: 375N1
Product Type: Turbocharger Original part NEW
Type: Turbocharger
Reference Number OE8: 1319614, Y60113700G, 375J6, 9660641380, 375J8, 3M5Q6K682AE
Manufacturer: GARRETT
Brand: Unbranded