Turbocharger TURBO 753420 Peugeot Citroen Ford Mazda Volvo 1.6HDI 110HP +GASKETS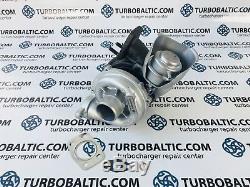 Have your vehicle registration handy and we can quote you within seconds! 308 SW HDI 110 - 110 HP.
Focus C-Max TDCi 110 - 108 HP. Xsara HDi 110 - 110 HP. 206 HDi - 110 HP. 307 HDi - 110 HP. 307 SW HDi - 110 HP.
407 HDi - 110 HP. C4 HDi - 109 HP. C4 Picasso HDi - 110 HP. C5 HDi - 109 HP. Focus TDCi - 108 HP. Focus C-Max TDCi - 113 HP.
C-MAX TDCi - 113 HP. C3 HDi - 109 HP. S40 HDi - 110 HP.
207 HDi 110 - 110 HP. Cooper D - 108 HP. V50 1.6 D - 107 HP. C2 HDi - 110 HP.
C4 Grand Picasso HDi - 110 HP. 308 HDI 110 - 110 HP. C30 DRIVe - 107 HP.
V70 DRIVe - 108 HP. 308 CC HDI 110 - 110 HP.
3008 TDi 110 - 110 HP. C3 Picasso HDi 110 - 110 HP.
5008 HDI 110 - 110 HP. After receiving a new product from us, you have to resend your old turbine within 14 days. As soon as we get your package you will receive your deposit to your account.
In addition to telephone order we also have a shop for collection of replacement turbochargers, so if youre in the area and want to save that vital day before collecting a replacement turbocharger, our friendly customer service team can have everything ready for you to collect. To complement our reconditioned turbo service, we have excellent full garage facilities to cover all aspects of mechanics. Our friendly and experienced garage staff are here to help you on any aspect of Turbocharger fitment as it is a very specialist procedure. All Our technicians are fully qualified to City & Guild standards to ensure we always give the highest standard of service to any work we carry out. TURBO FITTING AND SERVICE CENTRE. A company providing repairs, diagnostics and maintenance services for all types of turbochargers, and supplying top-quality turbocharger parts.
We have been in the market for 10 years and are specialists in the field of turbocharger repairs. The company brought together a team of experienced specialists who are always ready to repair your cars turbocharger and provide detailed answers to all your questions. The guarantee is valid for 12 months from date of original invoice.
The complaint will be processed on the condition that the turbocharger is not disassembled or cleaned by the user. The guarantor reserves the right to bring the vehicle in which the turbocharger is used in order to control the operation of the turbocharger and the engine. In order to guarantee turbochargers reliable operation, the engine oils of high lubricating properties must be used and refreshed together with an oil filter replacement every 8000 miles. In case of semi-synthetic and mineral oils, they should be refreshed with an oil filter replacement every 6000 miles. Just before the turbocharger is installed, engine oil, oil filter and air filter must be replaced.
Entry of mechanical particles, dust from the air intake or engine. Insufficient lubrication, oil pressure, poor oil quality. The shaft speed and temperature exceeding - bad power supply and ignition systems regulation, air filter occlusion or other obstacles for air intake, uncontrolled increase in engine speed. Improper combustion too high temperature of exhaust fumes. Ancillary charges such as removal and refitting / hire of vehicles etc.
Any damage caused to engine or vehicle by failed turbocharger. Before dismantling, after turbocompressor failure after the repairs, it isnecessary to contact Darwen Motors representative and report the failure circumstances. TO IDENTIFY AND REMOVE THE CAUSE OF THE PREVIOUS FAILURE OF THE TURBINE.
OTHERWISE A NEW TURBINE WILL FAIL AGAIN! Check according to turbine model and code if complies with Your car. Check and clean the engine intake and exhaust systems, pipelines and cooler (intercooler). They must be clean and free of oil, gasket residues, dust, scale, soot or foreign objects nuts, metal particles, rags etc. Check and clean engine crankcase ventilation system.
In the engine crankcase, during operation, pressure should not be created. Thoroughly clean or wash the oil supply and return pipes to remove gasket residues. Foreign objects or dirt in supply pipe can immediately damage the turbocharger. Check that the turbocharger oil supply and drain holes are. Clean, sealing surfaces are not damaged and under the pressure will not leak. Attach turbocharger to the exhaust manifold flange, paying attention to the tightness of the connection. Ceramic and silicone sealing compound is prohibited. Check the exhaust system and muffler in order to not overload turbocharger due to occlusion, unopened valves, crumpled pipes and other permeability reducing reasons. Connect the exhaust pipe to the turbine exhaust hole. Check coupling tightness and reliability. Check exhaust system for leaks, pipes, fasteners, flanges fastening. Pour clean engine oil to the turbocharger oil supply hole and turn the roller by hand until the oil starts to flow from the drain hole. Connect air intake and drainage pipes, tighten screws.
Connect the oil supply pipe to the turbocharger and check whether the connection is. Clean, of high-quality and reliable. Do not use liquid substances silicones, sealants, etc.
, which may enter the turbocharger. Lubrication channels, as well as rubber gaskets.
Turn the engine starter, not allowing it to start until the engine oil will begin to. Flow from the turbocharger drain hole.
Ensure the oil drain pipe permeability must be clean, not folded, inner diameter of min. Connect the drain pipe, ensure the security and tightness of couplings. Check whether the engine supply and the ignition systems are properly adjusted. Check the oil pressure at the inlet of the turbocharger. 5 bar, idling at least 1.5 bar.
Increase the speed and check for oil, air, gas, cooler leaks. Check whether the pipes and joints deform during operation. Before turning off the engine allow it to operate 1 minute idle. While operating comply with following rules.
19.1 Changing the oil filter must be filled with fresh oil. 19.2 Do not use flushing oil or additive and do not flush the engine. 19.3 Start the engine only idle (without pressing the accelerator).
Do not increase the speed and do not load engine for 20-30 seconds. 19.4 Before turning out the hot engine, allow to operate 1-2 minutes in idle mode to cool turbocharger. 19.5 If the engine has just been renovated, after covering the distance of the first 200-250 km it is necessary to change the oil filter. We will be unable to further process the return until we have received this.
Please note this applies even where the product is listed with P&P as free. If any part is received back in an abused/neglected and or dirty state or with no regard to protect it during transit we will simply return the part back to you. Reasons for refusal of surcharge credits are. Unit is physically damaged 2.
Unit is incomplete or dismantled 3. We are always ready to give you advice and provide answers to all your questions. The item "Turbocharger TURBO 753420 Peugeot Citroen Ford Mazda Volvo 1.6HDI 110HP +GASKETS" is in sale since Tuesday, January 15, 2019.
This item is in the category "Vehicle Parts & Accessories\Car Parts\Turbos & Superchargers\Turbochargers & Parts". The seller is "turbo-reman2009" and is located in Darwen.
This item can be shipped to United Kingdom.
Type: Turbocharger
Brand: Garrett
Manufacturer Part Number: 753420
Reference OE/OEM Number: 740821-0001 740821-0002 740821-1