Particle Filter Diesel for Peugeot 307 407 1,6HDI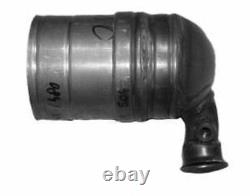 Particle Filter Diesel for Peugeot 307 407 1,6HDI. The description of this item has been automatically translated.
Toothed belts / toothed belt sets. Oil / fuel / air filter.
VW / Audi middle silencer. Soot Particulate Filter Particulate Filter Diesel Particulate Filter DPF Peugeot 307 407 1.6HDI. Soot Particulate Filter Particulate Filter Diesel Particulate Filter DPF C2 C3 1,6HDI DV6ATED4 We offer you a new soot particle filter. Suitable for: ONLY FOR VEHICLES WITH STANDARD DPF!!! 2008 / 04-2019 / 12.
1560 ccm, 66 KW, 90 PS. 1560 cc, 80 KW, 109 PS. 1.6 HDi 90 16V.
2005 / 09-2009 / 12. 2004 / 11-2011 / 07.
2007 / 02-2013 / 08. 2006 / 07-2011 / 07. 2008 / 02-2010 / 12.
2006 / 11-2010 / 09. 2009 / 06-2010 / 07. 2007 / 10-2010 / 02.
2006 / 02-2009 / 12. 2007 / 06-2012 / 12.
2005 / 04-2007 / 12. 2005 / 04-2008 / 04.
2004 / 02-2008 / 04. 2006 / 12-2008 / 04. 2007 / 09-2019 / 12.
2004 / 05-2010 / 12. 2008 / 04-2012 / 12. 2010 / 04-2019 / 12. 1560 ccm, 68 KW, 92 PS.
2009 / 01-2012 / 12. XP, 1731XP, 1738.33, 173833 Self if your vehicle is on this list, it doesn't have to inevitably mean that the part offered here really is Fits your vehicle. When If you are not sure whether the exhaust will fit you... Send us please give us the key numbers, year of construction and engine of your If this exhaust does not fit, we will find the right one for you and give you a fair price. We have almost all spare parts for almost all car brands and types.
All articles offered by us (silencers, catalytic converters, DPFs) manufactured according to ISO 9001: 2000 and EN-ISO 9001. The one in this listing located silencer / catalytic converter / DPF has an E-mark, if this is expressly stated in the offer text or the item characteristics is specified. There are silencers / catalytic converters with E-mark there none Restrictions, they are on public roads authorized. We send our parcels with established parcel senders to give you a max. The best possible consignor is always selected for you.
A selection on your part is not possible. DHL - DPD - GLS - Transline. Please note our opening times to collect your order: Mo-Fr: 7:00 a. We will send the product after we can determine that your transfer has been received.
Withdrawal & terms and conditions. Terms and conditions, information AltÖlV, BattG and ElektroG.
Conclusion of contract, contract text, prices, codes of conduct. He determines a start or Fixed price and a period within which the offer can be accepted (offer period). The item was destroyed or damaged through no fault of his own, the item was stolen or the item cannot be transferred due to a legal prohibition or legal defect. The Best Offer feature allows buyers and sellers to negotiate the price of an item.
Like any other offer, price proposals are binding. If the price proposal is accepted, the offer is terminated and the contract is concluded.
If the price proposal is rejected, no contract is concluded. He will then be redirected to a subpage that shows the contents of the shopping cart. To correct input errors, the respective "Change" button can be clicked and the data or selection can be corrected using the usual keyboard and mouse functions in the corresponding input fields. Activate the "Add to shopping cart" button. Activate the "Continue to checkout" button. Log in or open a customer account. A a contract has been concluded in these terms and conditions, the goods are in stock. B The goods are paid for in advance. A The statutory provisions of the BGB apply. The respective item condition - new or used - can be found in the item description.
Obligations whose fulfillment enables the proper execution of the contract in the first place and on whose compliance the contractual partner can regularly rely. Claims according to the product liability law. C A separate customer service is not available. Information on the waste oil regulation. Used oil must be disposed of properly, packaging does not belong in the household waste.
The same applies to oil filters and oil-containing waste that occurs regularly when changing the oil. Sending not possible as waste oil falls under the Hazardous Goods Ordinance. Information on the Battery Act (BattG).
You can return old batteries that we have or have carried in our range as new batteries free of charge to the address given in the legal notice. The symbols shown on the batteries have the following meanings: The symbol of the crossed-out wheelie bin means that the battery must not be thrown into the household waste.
Pb = battery contains more than 0.004 mass percent lead Cd = battery contains more than 0.002 mass percent cadmium Hg = battery contains more than 0.0005 mass percent mercury. If you return an old vehicle battery to us that we carry or have carried in our range as a new battery in accordance with Section 9 BattG, we are obliged, within the framework of the statutory provisions, to take it back free of charge and to reimburse the deposit amount. As far as we according to § 10 Abs. 1 sentence 3 BattG have issued a deposit token, the reimbursement of the deposit when returning the old vehicle battery depends on the return of the deposit token.
Drop off location is listed in the Contacts address. A return of the old battery by post is not permitted due to the dangerous goods ordinance. Alternatively, old vehicle batteries can also be handed in free of charge at recycling centers. The deposit we collect will not be reimbursed by the public waste and recycling centers. However, there you have the option of having the return of the old vehicle battery confirmed on the token.
On presentation of the acknowledged deposit token, you will receive the battery deposit back from us. According to the ElektroG, manufacturers are obliged to take back old electrical and electronic equipment free of charge. You can hand these over to your municipal waste disposal company at the designated collection points free of charge. Your local waste disposal company can help you. A The applicable data protection regulations and other legal regulations are complied with when collecting, storing, changing, transmitting, blocking, deleting and using personal data.
A transfer of personal data to third parties takes place exclusively to the service partners involved in the execution of the contract, e. With the conclusion of the contract, the customer agrees to the collection, processing and use of personal data in accordance with the aforementioned information. B The customer has the right to receive information about the personal data stored about him free of charge. To do this, he can contact the address given in the legal notice.
C If stored personal data is incorrect, the data will be corrected upon notification of the customer. D The customer can revoke his consent to the storage of personal data at any time with effect for the future.
In the event of a revocation in this regard, the personal data stored about the customer will be deleted, unless the data in question is still required to fulfill the obligations from the contractual relationship or legal regulations prevent deletion. In this case, the data concerned will be blocked instead of being deleted. Rl et Cie, S: C: A :, 22-24 Boulevard Royal, L-2449 Luxembourg.
Please note their data protection information and setting options to protect your privacy, available at -for Facebook Inc: https: // de-de. All from a single source. At the same time, we guarantee you optimal and competent support for your request.
For us, this is a challenge that we are just as happy to face as successfully. We are partners of the retail and wholesale trade and supply private customers directly. We offer you a large selection of high-quality products from renowned national and international brand manufacturers at affordable prices. Our extensive online offer includes new car spare parts for all common car brands and models. Wide range of auto parts and affordable prices.
Focus on quality and brand manufacturers. Our range of automotive parts includes all leading manufacturers such as Bosch, Sachs, Luk, Hella, Valeo and many more... Our portfolio is growing steadily and there are always new manufacturers selected and tested by us.
Owing to this fact, our motivation is to offer the customer the best possible selection of different providers. The tension to be derived according to the motto "Who has the choice - is spoiled" is countered by professional advice for the optimal solution of your individual demands and needs. The customer is at the center of our commitment. It is essential to bring your individuality significantly into the conceptual development.
A process that requires an open and intimate collaboration from Allen those involved. Fischer exhaust assembly paste sealant exhaust system sealant 170g. Starter cable 200A jump starter cable jumper cable battery cable 2.5m long car.
Comma Copper Ease copper paste 500g copper grease assembly paste copper sliding paste. Elring 471.170 Curil T elastic universal sealant sealing silicone 60ml. This item is in the category "Vehicle Parts & Accessories\Car Parts & Accessories\Exhaust & Emission Systems\Catalytic Converters".
The seller is "flex-autoteile" and is located in this country: DE. This item can be shipped to all countries in Europe.
Brand: JMJ
Reference Number OE: 173833, 1731.

PN, 1731ES

Placement on Vehicle: Down
Other Article Number: Bosal comparison no. 090-492
Numero/i di riferimento OE/OEM: 20693, 090-038, 750417
Manufacturer Part Number: JMJ1067
Type: Exhaust System
Article Number: JMJ1067
Product Type: Diesel Particle Filter