Fits Citroen Peugeot Ford Mini Volvo Mazda Fiat MFD Timing Chain Kit #1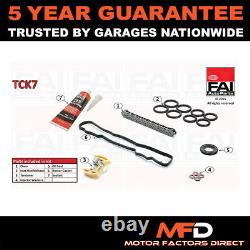 All of the products we sell conform to European regluations and specifications. Interchange part numbers: OE: 0816F6, 0816F8, 0816J1, 9464474289, 1231282, 1..
Petrol: 1.6 Diesel: 1.6 dCi. Diesel: 1.6 dCi Petrol: 1.6 Diesel: 1.6 dCi. OE: 0816F6, 0816F8, 0816J1, 9464474289, 1231282, 12312821231280, 1231280, MN982129, 11317805967 4U Autoparts: 44057LR 44094PU AKRON-MALÒ: 909053 ASHIKA: KCK306 AUTEX: 711177 AUTOTEAM: KCA188 BGA: TC2330K BLUE PRINT: ADB117301 ADJ137303 BSG: BSG30102006 CALIBER: KCC188 DAYCO: KTC1065 DOLZ: SKCC016 DYNAMATRIX: DTCK7NG FEBI BILSTEIN: 37620 33692 GGT: KCSPA016 GK: SK1177 HEPU: 210172 IJS GROUP: 401022K INA: 559010610 IPD: 210172 JAPANPARTS: KDK306 JAPKO: KJK306 KM International: KCD188 LUCAS: LKTC7 MAGNETI MARELLI: 341500000360 341500000460 PartsTec: PTA1140135 PATRON: PTCK114 PEMEBLA: JAPKDK306 PROCODIS FRANCE: KTC3824 QUINTON HAZELL: QCK107 RED-LINE: 30MZ016 RUVILLE: No equiv. SchferbartholdGmbH: 310275340111 SKF: VKML83504 SWAG: 99133692 62937620 TRICLO: 421250 TRISCAN: 865010005 VAICO: V2510001BEK WILMINK GROUP: WG1431316 WG1488333 WG1779792 WG1055131. Fitting Position: Cylinder Head Note: with gaskets/seals Note: without gear Number of chain links: 40 Chain Type: Simplex Chain Type: Roller chain Additionally required Parts (Part numbers): TBK190.
Please use the part number to identify if the part is correct for your car. Any models shown in the application table are just a guide. This part is guaranteed for 5 Years. Consequential loss and labour claims are not accepted.
If a part is faulty a replacement will be sent out after the return and testing of the old unit. Labour claims are never accepted.